PRESIDENT DENNIS HOGAN'S REPORT 2021-2022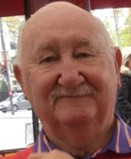 If you attended last year's changeover you would have been unaware of the storm clouds hanging over our club mainly brought about by continual disruptions of the COVID pandemic and the health of several board members who were finding it hard to continue in their roles.
The whole matter came to a head at the end of October when after the resignation of four members with 90 years' experience decided to step down. As sergeant of the club, I was about to find out what it meant Serve To Change Lives as I stepped into the Chair for the fourth time.
Of course, this could not have happened without the support of my wife Heather who re- joined the club and immediately took up a position on the board. From this date the club had only had one purpose going forward was helping others with a unified and friendly club, this I believe we have achieved
We have a diversified club in age and backgrounds, so it was important for all members to feel welcomed and new Sergeant Chris went about his fine sessions without favour, thank you Chris.
The first 4 months of the year was severely disrupted by Covid restrictions but one of Past President Bobby's legacy with setting up the club to operate via zoom, something we can still use today especially with incoming President Sadia spending much of her time in Pakistan.
The year normally gets off with a flying start with the District Governors visit but this was delayed because of COVD but we were first on the list when Lindsay and Tania visited us on 22nd November and we presented them with our revised plans and where our club was heading regarding growth, fellowship and helping others in the Rotary traditional way.
Assistant Governor Tom Borg was also in attendance who was always there for support in our darkness days. Tom attended several meetings as a guest and was always available for a chat. The great news, we have met our goals and we will be happy to hand over a financially sound, vibrant and growing club to Incoming President Sadia.
One of the privileges of President is the presentation of Paul Harris Awards for outstanding achievements in public life to club members or members of our local community. This year we had three awardees in our own Anita Bruce along with community members Richard Babb and Chris Goatley all involved with the Women's Shelter. All recipients are worthy in many ways and if I was to try to mention what they have done for our community the list would be extensive.
I would like to give special thanks to the current board who have come together in difficult times to put us in an envious position of progressive and friendly club with new ideas at the same time carrying out our traditional programs.
Sahar, Simon, Geoff, and Stephen carried the club through a difficult period, and it doesn't come without some damage with Sahar taking leave for six months to recharge her batteries so to speak that is not to say we will not see her from time to time as she carries out special projects for us off site.
To our newest members Claudia, Heather, Nigel, Mark and Bec a big welcome. You will not be disappointed in what Rotary can offer you, the main thing is to become connected and involved in the club activities.
Our sister club Port Klang called upon us after horrific floods hit the region and we were able to provide $3000 in assistance, little did we know our region would suffer similar consequences in the Lismore and Hawkesbury regions some months later whom we gave some support.
With first half of the year a wiped-out regarding functions and fundraising so to speak our first outing was a barbeque and fundraiser at the Hogans spreading bark chips of all things in December. It was a careful step out of COVID restrictions as we are now gradually getting back to normal.
Again, I have an emphasis on local community involvement with Sahar positioning our club on the committee of the local Hornsby Community Hub when our club with be in a strong position to partake in community projects in the future.
We have already partaken with community coffee chats, initial discussions re Dementia café and higher exposure via local newspapers and radio.
I can't forget our day out at the Bunnings Barbeque fundraiser run by Paul and Arthur, great to get out again, then followed up by a social outing to Putt Putt Golf.
The sad news of the year was losing a Rotary stalwart Bev Hook after a long illness.
Bev had strong connections with the youth exchange and music and to this end the board is going to offer a $250 music scholarship to one of our local schools.
This is along the lines of our donation to Shelter Box in remembrance of Greg Timewell which this year will help our friends in the Ukraine. We still must finalise our International Coin account which will probably support another two Shelterboxes for Ukraine.
What do I say about the International Project and the coin program ably run by Director Geoff and Treasurer Stephen. In difficult times they have managed to grow the number of sites and clubs involved. This of course with their team of helpers and sorters. This year with more people travelling we hope to have extra funds to disburse at the end of next year.
A very big thank you to Magpies and their staff who have always supported us.
I know there is something or someone I have forgotten but it doesn't mean I don't thank you. I stepped into the chair in unusual circumstances to unify and grow the club in more ways than one, I believe I have achieved this and wish incoming President Sadia and new board all the best.
Serve to Change Lives Dennis Hogan
CLUB SERVICE
What is Club Service - The Club Service Officer has an important responsibility, ensuring the weekly meeting program is structured and balanced, that meetings are well run, and that members are kept informed through the Club bulletin and website.
The Club Service Officer requires an understanding of meeting and Rotary procedures to be effective in this role. The Club Service Officer is responsible for a varied range of activities including:
Weekly meeting program - Rotary months, guest speakers, social and fellowship
Meeting management – Sergeant at arms, Protocol, induction, new member approval, RI protocol, guests
Keeping members informed – use of information sources including the bulletin, website and Rotary information
Other Club activities – Conference chair, historian, club property, photographer, welfare officer.
Christmas Dinner was again held at our incoming Presidents Sadia's home and what a feast it was. A lovely night with music and much merriment.
A Putt Putt golf event was held in May. Several "holes in one" were achieved but no one surpassed Paul's scoring 3 and was presented with the trophy. Notable mention was Dennis Hogan, our illustrious President with the best score of 45 gross.
Food and drinks were provided by the Thornleigh Golf Centre, and everyone had an enjoyable time.
One of our main fund raisers this year was an online auction organised by myself, Simon and of course Paul collecting items, which raised over $2000. Good effort first time up.
Special Thanks to Leonie and Nigel for their art pieces and members that provided goods. This was new concept which I am sure will be enacted again next year.
Thanks also goes to Sahar for providing me with computer knowledge and background information and other assistance during the last 6 months.    Enjoy your break.
Heather Hogan
COMMUNITY SERVICE
What is Community : Community service is one of Rotary's Avenues of Service and it encourages Rotarians to offer service to their communities. Every Rotary club and every Rotarian assumes a responsibility to find ways to improve the quality of life for those in their communities and to serve the public interest.
Community Service:
Encourages and fosters the ideal of service to the personal, business and community life of every Rotarian.
Provides opportunities for every Rotarian to exemplify "Service Above Self".
Provides a chance to respond to the needs of a local
Aged Luncheon – unfortunately several homes were reluctant to let their residents out due to Covid restrictions. We are thinking perhaps September/October this year
Lismore Flooding - Plenty happening in mid-June when we received an email from Lismore's President after the arrival of our $2000 donation and Wrapped with Love blankets. A big thanks to all involved including a friend of Rotary Steve Robson for delivering them. We are looking to deliver another 40 rugs at the end of June
"However, I must tell you we took one bag of 11 out as we delivered vouchers this afternoon and the reaction was amazing!                     People just hugged them to themselves and could not get over the colours, patterns and most especially the warmth.
A fantastic initiative on your teams part – well done."    Kind regards, Brian
President Dennis with the rugs in the back of Steve Robson's car, as they say "Steve you need a bigger car"
On the right is a very poignant photo of St Carthage's Cathedral Lismore
Inside photos of Hornsby Connect, offering food for a small payment. Anita Bruce, has been helping there for a number of years and continues to do so.
A student asked us to provide help in a community service project for the homeless which we did but unfortunately or fortunately for us, Simon and Sahara finished the job and back packs were delivered.
Our contact with the student was lost so the back backs which had toiletries, sleeping bag etc went to the Salvation Army & Fusion. They were extremely grateful for them. Student's loss our gain.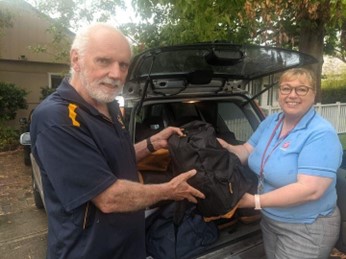 HORNSBY VILLAGE HUB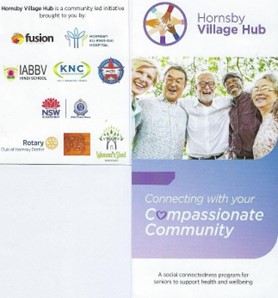 The dynamic trio aka Dennis, Sahar and Simon at the Hornsby Hub.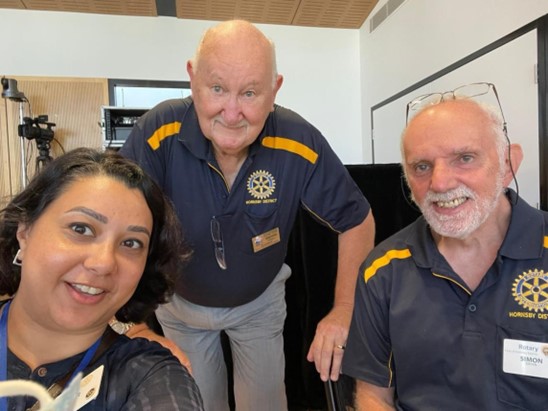 INTERNATIONAL SERVICE
What is International Service - The International Service Director is responsible for enhancing members knowledge of international understanding, goodwill, and peace through the world fellowship of Rotary. The International Director initiates international projects with Rotary Clubs in other countries and supports Rotary International programs such as Group Study Exchange, Ambassadorial Scholars, Rotary Youth Exchange and develops relationships with other Rotary Clubs in the world.
What a difficult two years it has been. With no travel it has been very challenging to repatriate money overseas and we decided not to disburse funds last year.                     However, in the meantime we have collected 768 kg of coins and notes for the two years. Amazing where it all came from – our major sponsor Bendigo Bank and from around the continent, Western Australia, South Australia, Victoria, New South Wales and the Sunshine Coast in Qld.
In the two year period we have repatriated monies to New Zealand, banked a substantial amount of Australian notes and coins, plus some proceeds of currencies exchanged by Bendigo Bank. We also now have on board a coin dealer who takes substantial amounts of old coins which are out of circulation but have good collector value.
With borders reopening we have coins ready to be repatriated to UK, USA, New Zealand, Switzerland, Canada, UAE and Fiji. This will be a great start for the 2022/2023 year.
We have recruited a number of new clubs wanting to be involved in the program.
Chris Durie from RC of Cooroy, Qld, is collecting from the Sunshine Coast to the Gold Coast. Stephen has new contacts with Bendigo Bank in Braidwood and Gary Cook, RC of Bungendore, and we are expanding into ACT with Heather Grove.
Kevin Hales, RC of Goolwa, SA, continues to expand into Adelaide. Ian Brayshaw and RC of Waneroo, WA, are quite active.
John and Barbara Rafter, our stalwarts from RC of Keilor East, VIC, continue their marvellous work, and always have quantities of coins ready to bring when they visit Sydney.
For these two years, the 768kg of coins and notes collected have been exchanged for a total of $27,253.58 – a truly remarkable result. We have also donated Nepalese money to the Mitraata Foundation and Malaysian money to the Rotary Club of Port Klang.
Beneficiary Rotary Club payments for 2 years 2020 – 2022
| | | |
| --- | --- | --- |
| RC of Waneroo | WA | $2,944.66 |
| RC of Braidwood | NSW | $1,099.50 |
| RC of Bungendore | NSW | $1,066.27 |
| RC of Woden Daybreak | ACT | $1,298.91 |
| RC of Cooroy | QLD | $1,838.97 |
| RC of Goolwa | SA | $4,589.12 |
| RC of St Ives | NSW | $  490.21 |
| RC of Keilor East | VIC | $4,100.77 |
| RC of Strathdale Bendigo | VIC | $1,127.20 |
| RC of Casteron | VIC | $  120.00 |
| RC of Glenferrie | VIC | $1,075.31 |
| RC of Hornsby District NSW | NSW | $7,502.68 |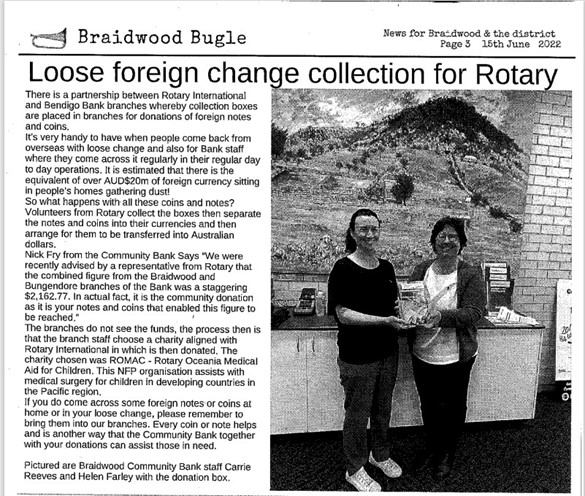 The Coin Account in action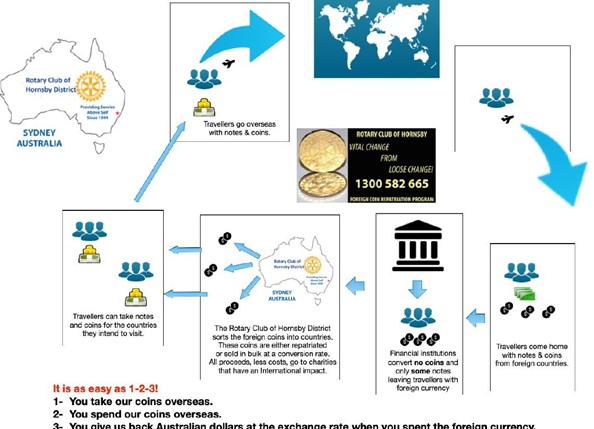 The RC of Hornsby District has allocated grants as follows:
Malaria Research at Griffith University, QLD                       $2000
With hundreds of thousands of people dying from Malaria each year, our Club continues to support Malaria Research in the hope that a cure may be found. 
Nikosi orphanage, South Africa                                            $ 500
Nkosi's Haven is an NGO in the Johannesburg, South Africa area that offers residential, holistic care and support for mothers and their children whose lives have been impacted by HIV/AIDS.
Nkosi's Haven also provides support for orphans, HIV/AIDS affected or not. https://en.wikipedia.org/wiki/Nkosi's_Haven www.nkosishaven.org
Mitraata Foundation Nepal                                                  $ 500 plus notes in Rupia This is a Nepalese organisation which helps people to empower themselves and to take responsibility for their own futures by providing them with the education, skills, training, networks and belief in themselves to achieve their dreams.
Shelter Box                                                                             $1000
In memory of Past President and friend Greg Timewell
Having somewhere dry and warm to sleep, to prepare meals and be with your family is vital for starting the long process of rebuilding your life.
ShelterBox teams work with disaster-hit families around the world, offering emergency shelter and other essential items to support them in rebuilding their lives.
www.shelterboxaustralia.org.au
| | |
| --- | --- |
| | Contents : Tent, toolkits, ropes, tarpaulins, spade, hammer, saw, lights, blankets, clean water filtration, cooking sets utensils, mosquito nets. |
Koto International                                                                 $ 500 plus notes in Dong
Know One Teach One KOTO is a not-for-profit social enterprise that empowers at-risk and disadvantaged youth in Vietnam through its holistic hospitality training program. www.koto.com.au 
ROMAC                                                                                   $1000
Commencing in 1998, it helps bring children to Australian for surgery for various medical issues that are lacking in our region. www.rotary.romac.org.au
Team Vista                                                                              $ 500
Their main project is to assist those living in poverty in a community in Moshi/Tanzania
Already remitted during the year:
RC of Port Klang, Malaysia, for orphanage and cyclone relief           $3,060
Still available for disbursement - $1,500 which can be allocated by incoming President Sadia.
This Rotary year, International Service was again helped by the solo efforts of Madeleine Holder who initiated and continues to manage our involvement with the Kiva Foundation.
The Kiva Foundation was established in 2010 and has been running successfully since then. My sincere thanks to Madeleine for her ongoing support and the outstanding results of another successful year. (See Kiva report below)
WHAT IS KIVA?
More than 1.7 billion people around the world are unbanked and can't access the financial services they need. Kiva is an international nonprofit, founded in 2005 in San Francisco, with a mission to expand financial access to help underserved communities thrive.
We do this by crowdfunding loans and unlocking capital for the underserved, improving the quality and cost of financial services, and addressing the underlying barriers to financial access around the world. Through Kiva's work, students can pay for tuition, women can start businesses, farmers are able to invest in equipment and families can afford needed emergency care.
By lending as little as $25 on Kiva, you can be part of the solution and make a real difference
in someone's life. 100% of every dollar you lend on Kiva goes to funding loans.
2021-2022 KIVA Report – www.kiva.org
Our lending with KIVA has now reached the $20,425. In 11 years our Club's initial deposit of $2000 has been relevant over 10 times! We currently have $753.68 outstanding in loans. Covid is still impacting the amount of people requiring loans and ability to pay back, and the amount of loans affected by currency loss. We have made a total of 376 loans to budding entrepreneurs or students in 52 countries over 12 sectors: Agriculture, Clothing, Food, Housing Personal Use, Services, Arts, Education, Health, Manufacturing, Retail and Transportation. We have donated $138.75 to Kiva to assist with administration costs.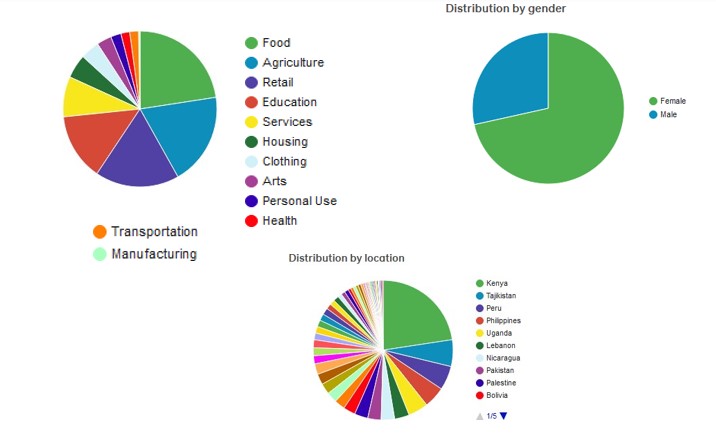 In this group: Elgin, Irma, Carla, Teodocia, Karina, Martha, Maribel, Demetrio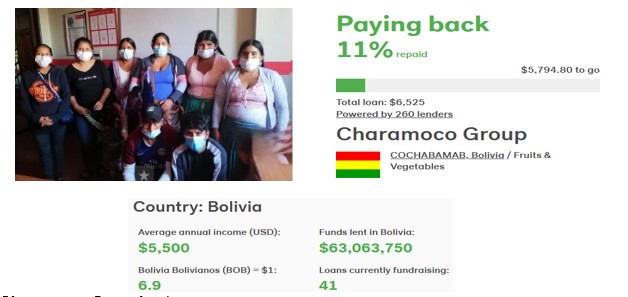 Charamoco Group's story
Carla is 25 years old, she is single and has no children. She sells vegetables on the street from her home. She has been doing this job for several years. It is not the first time that she has obtained a loan, the previous one was used to buy baskets, seats, etc. The current loan that she will get will be used to buy vegetables.
A typical day for her involves getting up very early and focusing on her business. The aspirations and goals that she has for her family and her life are for her future children to become professionals, and the aspirations that she has for her business is for it to grow.
This loan is special because: It provides low-income, micro entrepreneurs with loans to increase their income.
LOAN LENGTH : 10 months
Repayment Schedule : Monthly                                      Disbursed date : March 28, 2022
Partner covers currency loss? Yes                                 Funding model : Flexible Facilitated by Field Partner : Fundacion Pro Mujer                                Is borrower paying interest? Yes Field Partner risk rating : 5 Star
Here is a snapshot of our account to date. We have $162 credit in hand
Finally may I thank all the helpers on our coin program, especially Stephen, Heather and Jenny, our new sorter Sharon and all our collectors, all the participating clubs around Australia, and those who have repatriated currency on our behalf
Rotary year 2022/23 has some exciting new participants becoming involved with details to be released in the new year.
Geoff Sell International Director
TREASURER'S REPORT
What is a Treasurer – The money man, makes sure our debts are paid, we have profit balances the books and keeps us legal.
Club A/C Bendigo Bank 135900975
Our club account balance as at 21/6/2022 is $7056.50.
Our annual membership fees were suspended from 1/7/2021 to 31/12/2021 due to Covid and our forced absence from our meeting home Magpies Club in Waitara.
We reintroduced our fees as from 01/01/2022 at $250.00 per half year. We had sufficient funds to cover our total annual fees paid to Rotary District and Rotary International, the amount being $3994.92.
Revenue from weekly fines through our sergeant contributed $1383.70.
Charitable A/C 135901064
Current balance of account as at21/6/2022 is $8316.94
Our charitable account relies on our ability to raise funds through individual donations, club events and sale of donated auction items online.
We were extremely grateful to PP Bob Louis for his donation of $7,000 which was targeted to Dementia Australia. We also received an individual donation from a local businessman Tony Miaoli for $1000.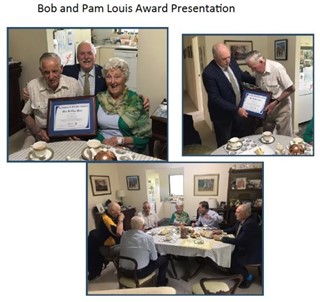 We were able to raise $2532.00 through our online auction and over $500 for flood relief through our own members
Out of these funds we have donated or will be donating the following amounts over the next week to Australian Charitable Organisations totalling $5500. Namely:
| | | | |
| --- | --- | --- | --- |
| 1.Legacy | $250 | 5.HK Women's Shelter | $500 |
| 2.Epilepsy Action | $500 | 6. RC Of Lismore (Flood Relief) | $2,000 |
| 3.Prostate Cancer | $500 | 7. Diabetes 1 | $250 |
| 4.Studio Artes | $500 | 8. Lymphoma Society | $500 |
|   |   | 9. Alpha-1 Organisation Aust | $500 |
Coin A/C 135901114
Our current balance of our coin account is $25,319.89
We have been able to repatriate $28,984.07 from collections through our coin account this year by our local and interstate partner clubs in Victoria, ACT, QLD, South & West Australia.
A total of $27,253.58 will be distributed to our designated international charities as well as our national partnering clubs.
| | | |
| --- | --- | --- |
| CLUB |   | International Beneficiary |
| RC of Waneroo W.A. | $2944 .66 | TBA |
| RC of Braidwood NSW | $1099 .50 | ROMAC |
| RC of Bungendore NSW | $ 1066 .27 | ROMAC |
| RC of Woden ACT | $1298 .91 | Shelterbox |
| RC of Cooroy QLD | $1838 .97 | Malaria Vaccine Project |
| RC of Goolwa S.A. | $4589 .12 | Malaria Vaccine Project |
| RC of St.Ives    NSW | $ 490 .21 | ROMAC |
| RC of Keilor East VIC | $4220 .77 | TBA |
| RC of Strathdale VIC | $1127 .20 | TBA |
| RC of Glenferrie VIC | $1075 .31 | TBA |
| RC Hornsby Dist | $2000.00 | Malaria Vaccine Project |
|   | $1000.00 | Shelterbox |
|   | $1000.00 | ROMAC |
|   | $ 500.00 | Mitrataa Nepal |
|   | $ 500.00 | Nkosi Orphanage S.A. |
|   | $ 500.00 | Koto  International |
|   | $ 50 .00 | Team Vista |
NB Already Remitted $3060 to Port Klang for flood relief in Malaysia and Orphanage in late 2021.              An amount $1500 still available for distribution by incoming committee.
Stephen Bruce Treasurer
VOCATIONAL SERVICE
What is Vocational Service - Vocational Service role in the Club is to implement and encourage the objectives by its own actions in dealing with the community and by the development of projects that enable members to use their vocational talents in the service of the community
Vocational Service programs, by their nature, offer excellent opportunities for involvement with your local business community. This involvement can lead to creating a raised awareness of what Rotary stands for, to support and sponsorship of your club's other programs, and to membership growth.
A wonderful night with 92 people attending our Annual Pride of Workmanship Awards in May 2022. In total we had 13 recipients with 12 attending and 1 overseas at the Commonwealth Games. Ex member Sivaraj Sagathavan helped with getting the nominations out to the Schools and Hospitals.
The recipients covered a wide range of the community with teachers, office staff and service providers. Nathan Tilbury the Assistant Mayor was in attendance along with our District Governor Lindsay May and his wife Tania. Nathan and Lindsay handed out the awardees to each and Nathan kindly responded on behalf of the awardees.
Once again the Magpies Club provided excellent food and service, which we are always grateful. They also provided a donation of $350 on the night.
The costs involved were substantial with both complimentary dinners to the awardees only, certificates and trophies. The actual cost to the Club was about $770.
AWARDEES WERE :
NAME                                        OCCUPATION                            NOMINATOR
Annika Ridley

School Teacher

Elizabeth Amvrazis

John Wigan

School Teacher

Elizabeth Amvrazis

Kaye Scott

Personal Trainer

Sahar Zaidi

Michael Blackwood

School Teacher

Bryce Grant

Jo Iles

Child Care Provider

Sahar Zaidi

Omar Afiouni

The Map Institute

Bec Healy

Bec Healy

CEO &

Omar Afiouni

Debbie McClure

School Teacher

Hornsby Girls High School

Anne Kenyon

President, Hornsby

Chamber of Commerce

Matt Kean

Lisa Bretnall

Finance Management

Granny Flat Solutions

Dr Huh

Medical Doctor

Sahar Zaidi

Nigel Miller

Hornsby Toyota

Mitchell James

Kimberly Williams

 

Kim Jason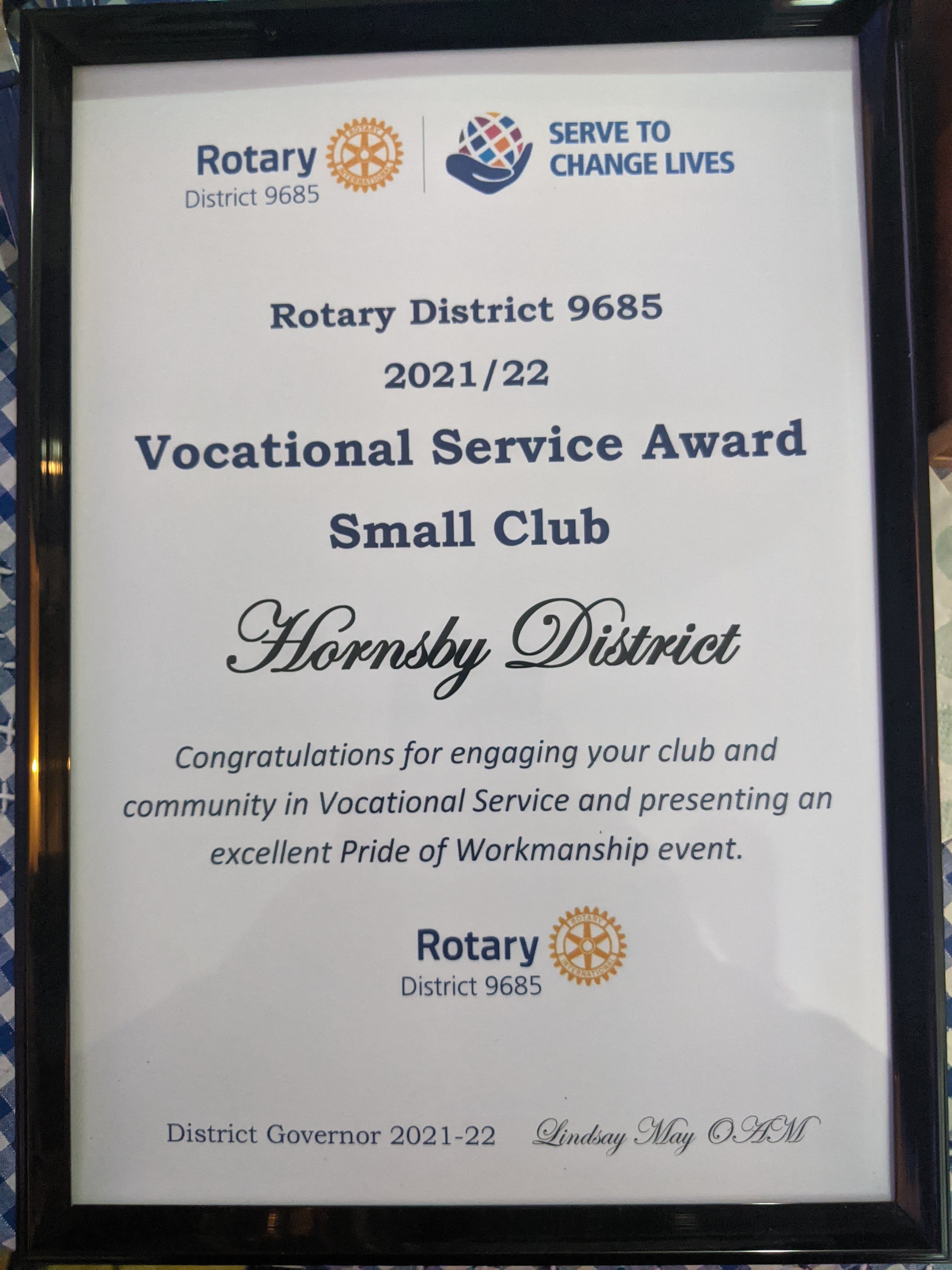 YOUTH SERVICE
What is Youth Service - Youth service projects take many forms around the world. Rotarians sponsor Boy Scout and Girl Scout troops, athletic teams, centres for disabled children, school safety patrols, summer camps, orphanages, recreation areas, safe driving clinics, county fairs, child-care centres, and children's hospitals. Many clubs provide vocational counselling, establish youth employment programs, and promote the use of The 4-Way Test. Increasingly, drug/alcohol abuse prevention and AIDS awareness projects are being supported by Rotarians.
Programs such as Rotary Youth Exchange, Rotary Youth Leadership Awards (RYLA), Rotary Youth Program of Enrichment (RYPEN), Model United Nations Assembly (MUNA) to name few.
Again, due to Covid there was not much activity in the Youth Portfolio this Rotary year. We did maintain our connection to the Interact Club at Abbotsleigh and will have them come and see us early in the new Rotary Year.
On a couple of positive notes from Assembly, Youth Exchange is starting to fire up again after the Covid shutdown, our District will receive a small number of students from South America in January and hopes to be able to send students away again next June.
Also RYLA will be on again this year, due to the late postponement from early this year, all participants that were registered have been offered places again this year, but there is room for more participants. The venue has had to be moved from the normal place due to it being sold. The new venue had not been confirmed at the time of writing but costs will go up significantly.
I would also like to add my congratulations to President Dennis and his offsider, Heather, for a fantastic job this year it what was a difficult and troubling time. They have brought the club back together and the meetings and events have all been most enjoyable.
Simon Bryan
Vice President and Youth Director
PAUL HARRIS AWARD
What is a Paul Harris Award – Donations to the Rotary Foundation provides our Club the ability to give a Paul Harris Award to a person who contributes to our Club or our Community. Named after the founder of Rotary Paul Harris who started Rotary in 1905 it exemplifies the slogan "Service above Self"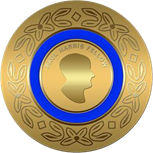 Congratulations to Anita Bruce, Chris Goatley and Richard (Dick) Babb for obtaining a Paul Harris award for services to the community and in particular Chris and Dick with the Women's Shelter.
Dick Babb (L) Chris Goatley (R)                          Anita Bruce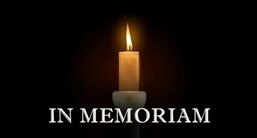 "Just passing through"
| | |
| --- | --- |
| | SIMON SLEVIN – Board member of Rotary Club of Waitara, who died too early age 49, 5/5/1973 - 10/5/2022 |
| BEV HOOK – member Rotary Club of Waitara, a lovely lady with a beautiful signing voice and great Rotarian | |
|   |   |
DAVIDA DUFFY – wife of past member Vince Duffy. Davida often accompanied Vince at the Aged Luncheon each year until they moved up north to retire.
NANCYE McKITTRICK, wife of past Rotary Club of Hornsby President John McKittrick 1970- 1971.
BEN WALKER, past member of Rotary Club of Hornsby
Ben gave the Vocational Service to Geoff Sell and he ran the first POW awards night during his year as President. That was 1981-1982
Vale to my good friend and one of a kind